Colonel James Walker Benet served as the Commandant of Benicia's Civil War ear Arsenal from mid-1905 to mid-1911. During this time he, his wife Frances and their youngest son, Stephen, lived in the Commanding Officer's Quarters. When not away - such as at college - daughter Laura and son William also called the Mansion home.
During the family's Benicia years, Stephen grew from child to teen. Also, this was an important time in which the family was together, before the children began achieving literary success.
In addition to his Arenal duties, the Colonel was an avid reader and active father, heavily influencing his children in the areas of literature, history and the military code of duty, honor and country. Stephen would later write two historical poems, for example. One of these, John Brown's Body, relied in part upon his father's civil war stories (Colonel Benet had met Grant, Sherman and other generals when a child). These stories were strengthened by the settings in which they were told, including the Civil war era atmosphere of the Benicia Arsenal.
Also, Stephen built upon his father's teaching of "duty, honor, country" during the second World War. At that time, Stephen served America by writing articles, national broadcasts and presidential speeches - that were important in helping Americans, first prepare for war and, then, to fight it.
Yet the Benet children were not the Colonel's only "students." In Benicia's old Athens-like environment, several other young writers were frequent visitors. These included Leonard Bacon, a young professor at UC Berkeley, and a struggling news reporter named Sinclair Lewis. Lewis, in fact, spent the entire summer, as well as Christmas, of 1909 - with the Benets in Benicia.
Poet Bacon later described the Arsenal as "the back-drop of a romantic play, all pepper trees and acacias and fountains and pillared porches." About the Colonel he said: "he knew more about English poetry than most poets and all professors." Novelist Lewis felt much love for the Colonel - in contrast to the distance he felt from his own narrow-minded father. Lewis loved the Colonel for his wit, his learning, his kindness and his high standard of honor - "but most of all for an almost indefinable gracefulness and graciousness and ease which has always instructed me."
In future years, the young people whom the Colonel influenced would publish close to 100 books. These works would earn four Pulitzer Prizes for poetry (two for Stephen, one for William and one for Bacon), one Pulitzer for literature and America's First Nobel Prize for literature (both earned by Lewis).
Influencing so many future successful writers - an impressive achievement for a career army officer. That those future writers grew and developed in Benicia - left an impressive legacy for a small, California town.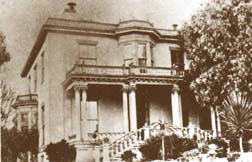 The Commanding Offcer's Quarters